JLL arranged both the sale and $16.1M loan and is leading leasing efforts for the office and R&D assets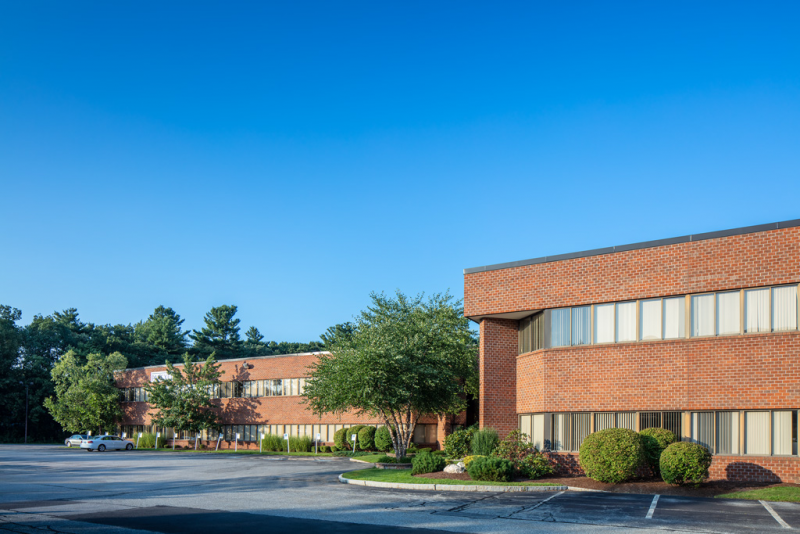 JLL announced today that it has closed the $10.4 million sale, arranged $16.1 million in acquisition and redevelopment financing and has been engaged to lease the two-building flex office and R&D portfolio totaling 170,146 square feet at 3 and 8 Federal Street in the northern Boston suburb of Billerica, Massachusetts.
JLL marketed the property on behalf of the seller, and procured the buyer and borrower, Boston-based Rhino Capital Advisors LLC (Rhino). JLL worked on behalf of Rhino to place a floating-rate loan with Bank of New England. Loan proceeds will be used to purchase the assets in addition to repositioning 8 Federal Street. Rhino has also engaged JLL to lease the portfolio.
The portfolio was constructed in 1984 and spans more than 12 acres along Middlesex Turnpike (Route 3), making the properties part of one of the most prominent innovation clusters within the Greater Boston market. The assets are also between two critical interchanges in Boston's northern suburbs, Interstate 95/Route 3 and Interstate 495/Route 3. The Billerica location provides easy accessibility to Boston, Cambridge and Boston Logan International Airport.
The three-story 3 Federal Street was renovated in 2007 and is home to two tenants in the R&D/biotechnology and defense sectors. 8 Federal Street is currently vacant and will undergo a multi-million-dollar repositioning plan that includes expanding the footprint and converting it into a state-of-the art, Class A flex facility with 24- to 30-foot clear heights.
Given the increasing supply constraints in Somerville, Cambridge and other inner-suburban markets, Boston's North Industrial market, which is where 3 and 8 Federal Street are located, is a natural relief valve for flex/R&D companies, as well as life science tenants looking to expand into nearby markets. The flex market in the Greater Boston area and the northern suburbs have seen increasingly positive dynamics over recent years. Once a small portion of tenant demand, the flex/R&D and lab tenant demand has increased to over 50 percent of all tenant makeup in the North market. Due to the COVID pandemic, lab and flex demand continues to remain strong with sustained growth.
The JLL Industrial Brokerage and Leasing team working on behalf of the seller and engaged by Rhino to lease the property included New England Brokerage Lead and Executive Managing Director Matt Daniels, Managing Directors Brian Tisbert and Christopher Lawrence and Assistant Vice President Zach Gramlich.
According to JLL, "We are excited about the opportunity to work with Rhino Capital on these well-located assets. We believe that the buildings are ideally positioned to meet the flex and lab demand in the market along with the ability to accommodate office users."
The JLL Capital Markets Debt Placement team representing the borrower was led by Managing Director Brett Paulsrud, Associate Amy Lousararian and Analyst Madeline Joyce.
JLL Capital Markets is a full-service global provider of capital solutions for real estate investors and occupiers. The firm's in-depth local market and global investor knowledge delivers the best-in-class solutions for clients — whether investment sales advisory, debt placement, equity placement or a recapitalization. The firm has more than 3,700 Capital Markets specialists worldwide with offices in nearly 50 countries.
About Rhino Capital Advisors LLC
Rhino Capital Advisors LLC is a privately held, Boston-based investment management firm servicing and advising its array of investors, including HNW syndicates and institutional capital partners. Rhino deploys human and capital resources to actively manage its existing operating assets and to implement renovation and repositioning of capital programs at each property.
Rhino works closely with a network of vendors to ensure daily onsite oversight of every asset. Rhino capitalizes on the diverse experience of its team and vendors to provide to investors institutional grade investment management and access to off-market opportunities in the Greater Boston area.
About JLL
JLL (NYSE: JLL) is a leading professional services firm that specializes in real estate and investment management. JLL shapes the future of real estate for a better world by using the most advanced technology to create rewarding opportunities, amazing spaces and sustainable real estate solutions for our clients, our people and our communities. JLL is a Fortune 500 company with annual revenue of $16.6 billion, operations in over 80 countries and a global workforce of more than 91,000 as of December 31, 2020. JLL is the brand name, and a registered trademark, of Jones Lang LaSalle Incorporated. For further information, visit jll.com.