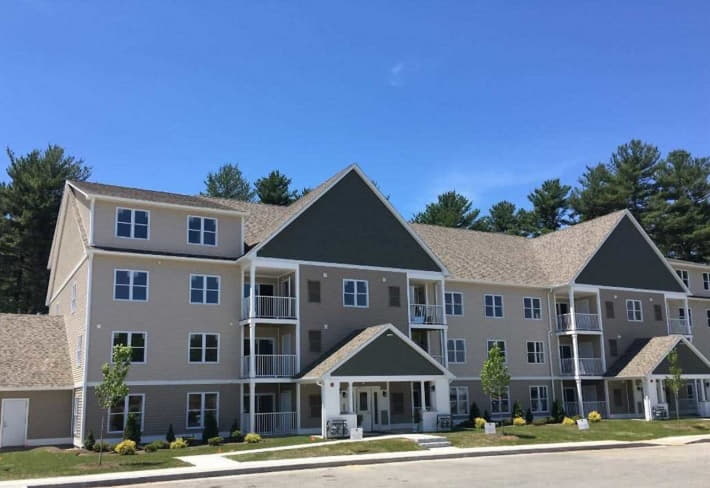 Colliers International announced that Executive Vice President Jeff Black and Assistant Vice Presidents Sean Burke and Bryan Koop of its Capital Markets team recently arranged $48 million of permanent financing for a newly constructed 234-unit multi-family community in Middleborough, Massachusetts. The Woodlands Apartments are located at 3 Evergreen Drive and comprised of 10 buildings offering a diverse combination of one, two and three-bedroom units, as well as extensive first-class in-unit and community amenities desired by today's modern tenants.
Understanding the staggered delivery of the community's ten buildings over a multi-month timeline, the Colliers team worked to engage a lender willing to enter the deal early to commence the closing process, and then fund immediately after the completion of construction and leasing. Cranberry's long-term holding strategy for the property in which it plans to enjoy tremendous cash flow and appreciation, was reflected in loan terms.
"We were able to work with People's United Bank to structure creative permanent financing that fit the project's development timeline," noted Colliers International's Assistant Vice President Sean Burke. "Due to the quality of the construction and management, our client was able to complete and lease the final phase despite the tough time in the leasing season."
About Colliers International
Colliers International (NASDAQ, TSX: CIGI) is a leading real estate professional services and investment management company. With operations in 68 countries, our more than 15,000 enterprising professionals work collaboratively to provide expert advice to maximize the value of property for real estate occupiers, owners and investors. For more than 25 years, our experienced leadership, owning approximately 40% of our equity, has delivered compound annual investment returns of almost 20% for shareholders. In 2019, corporate revenues were more than $3.0 billion ($3.5 billion including affiliates), with $33 billion of assets under management in our investment management segment. Learn more about how we accelerate success at corporate.colliers.com, Twitter @Colliers or LinkedIn.