$150 Million new Mixed-use Destination will bring Creative Offices, Retail, and Residences to the Iron Works District and the Five Points, Person Street, and Mordecai Neighborhoods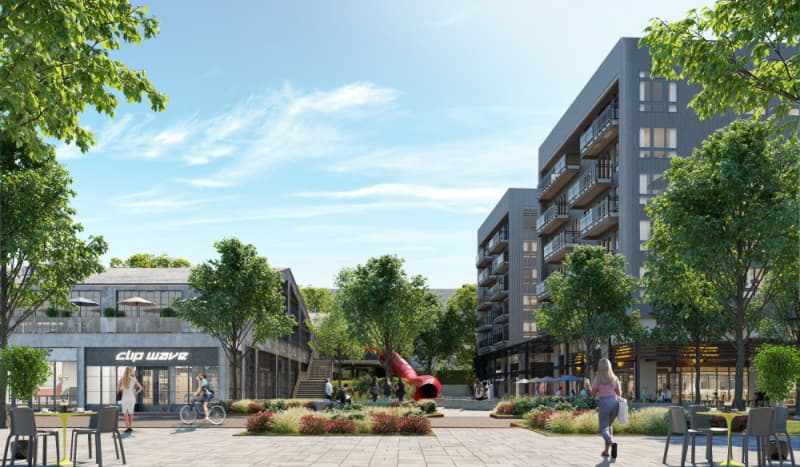 Global real estate and investment company Jamestown and Raleigh-based developer Grubb Ventures today announced the start of construction on the first phase of Raleigh Iron Works, a new dynamic, mixed-use destination that will bring nearly 500,000 square feet of creative office space, 90,000-plus square feet of retail, and 220 new residential units to Raleigh's Five Points, Person Street, and Mordecai neighborhoods.
Construction began early this morning with crews from Brasfield & Gorrie focusing on excavation and foundation work for the residential building, and infrastructure work for the new roads and utilities at the 18-acre site.
Located at 2200 Atlantic Avenue just minutes away from downtown Raleigh and the design district, and twelve colleges and universities in a thriving tech and research sector, Raleigh Iron Works has been designed to serve as a community destination with a diverse mix of shopping, dining, wellness, event, and outdoor spaces. The first phase of the project includes the renovation of the historic Peden Steel mills and warehouses into a mix of office and retail spaces, along with the construction of a new seven-story multifamily residential building. The offices will feature original architectural details and distinctive finishes while the residential building will offer top-of-line amenities and services. The office, retail, and residential components are expected to open in mid-2022.
Parking for the project's first phase will include a structured parking deck of just under 700 spaces as well as 115 surface slots site-wide. Ample green space will feature flexible seating for informal gatherings, outdoor dining, public art, events and more. A planned greenway connection will make for easy access to still more attractions -- without having to hop in a car.
"Raleigh Iron Works will create a new mixed use innovation hub for Raleigh and a dynamic space where the creative community will thrive," said Jamestown president Michael Phillips.
"We couldn't be more excited to have found a way to blend Raleigh's history with the creative new direction of today's economy," said Grubb Ventures president, Gordon Grubb. "This fits with Grubb Ventures' commitment to enhance our community."
The development of Raleigh Iron Works builds upon Grubb Ventures' successful repositioning of Dock 1053, a 185,000 square foot mixed-use creative community that features local retail, warehouse, office, and manufacturing space. Grubb's local residential and office expertise are a great complement to Jamestown's experience in transforming historic and industrial spaces into community hubs and gathering places.
About Jamestown
Jamestown is a design-focused real estate investment and management company with a 37- year track record and a clear mission: to transform spaces into innovation hubs and community centers. Jamestown employs more than 400 people worldwide with headquarters in Atlanta, Georgia, and Cologne, Germany, and offices in Amsterdam, Bogotá, Boston, London, Los Angeles, Madrid, New York, and San Francisco. The company is well-known in the industry for its market discipline. Since its founding in 1983, Jamestown has executed transactions in excess of $35 billion, and as of December 31, 2020, the company has assets under management of $12.1 billion. Current and previous iconic projects include Chelsea Market in New York City, Industry City in Brooklyn, Ponce City Market in Atlanta, Ghirardelli Square in San Francisco, and the Innovation and Design Building in Boston. In addition to its portfolio in key markets throughout the U.S., Jamestown has recently expanded its investment footprint to South America and Europe.
About Grubb Ventures
In 2002, Gordon Grubb founded Grubb Ventures to focus on infill development in the dynamic Research Triangle Region. With its overall mission to "rethink, rebuild and renew," Grubb Ventures capitalizes on the potential for improved land uses and density closer to the city's core, as opposed to the sprawling development in the suburbs. Using in-depth local knowledge and contacts, the company has acquired, developed, or repositioned, a substantial portfolio of properties around the Raleigh MSA, with a total value over $500 million. For more information, visit www.grubbventures.com.