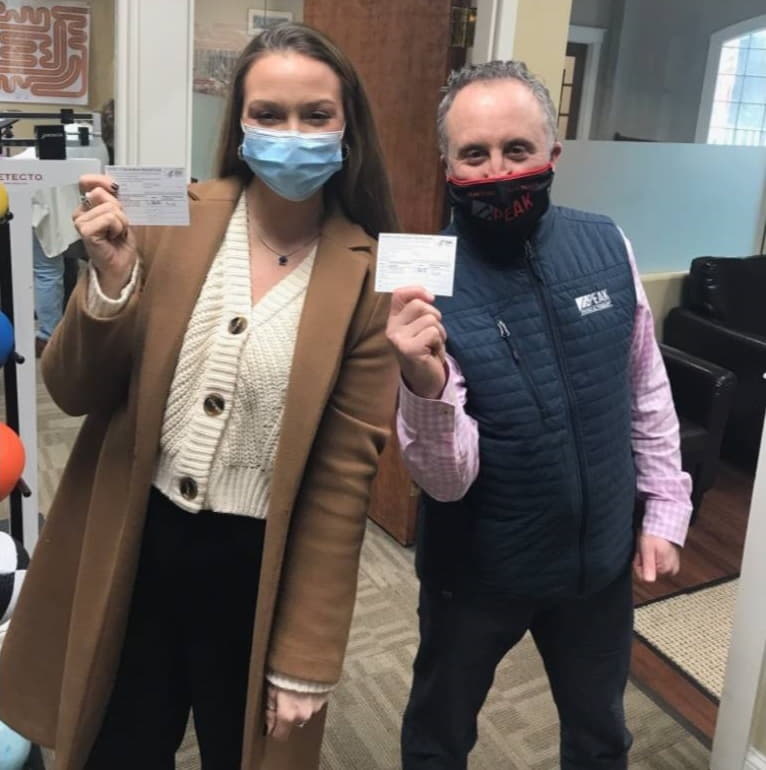 Director of Operations Shannon Delaney and Owner Eric Edelman after receiving their vaccines
Peak Physical Therapy & Sports Performance, a South Shore practice specializing in unique programs that provide comprehensive treatment in orthopedic, spine and sports medicine specialties, is pleased to announce that most of the staff at all of their locations received the first dose of the Moderna COVID-19 vaccine on January 26, 2021.
Throughout the pandemic Peak continued to treat patients in the safest possible manner using Telehealth physical therapy, which they continue to do today. Clinics were re-designed to maximize social distancing in the waiting areas and treatment rooms. Plexiglas was installed at the front desks of the clinics and CDC guidelines on masks, gloves and face shields were strictly followed.
"We are so excited to play a role in keeping our communities as safe as possible and do our part to fight this virus," said Eric Edelman, PT, owner of Peak Physical Therapy & Sports Performance. "Our passion is the health of our patients and of course we value the health and safety of our Peak team."
About Peak Physical Therapy and Sports Performance
Peak Physical Therapy & Sports Performance has eight clinics in Norwell, Scituate, Quincy, and Hanover, including two pelvic health centers. Two additional clinics opened in Pembroke and Braintree in 2020 offering specialized programs tailored to their patients' needs. Their services include spinal and sports injury programs, and have also developed specialized programs that address post-surgical rehabilitation, vestibular disorders, fall prevention, post-concussion syndrome, pediatrics, TMJ disorders, women's health issues, men's health issues, aquatic therapy and more. These specialized programs combined with their state-of-the-art facilities allow them to meet the unique needs of their patients and achieve the fastest results. For additional information, please call 781-347-4686 or visit www.peaktherapy.com