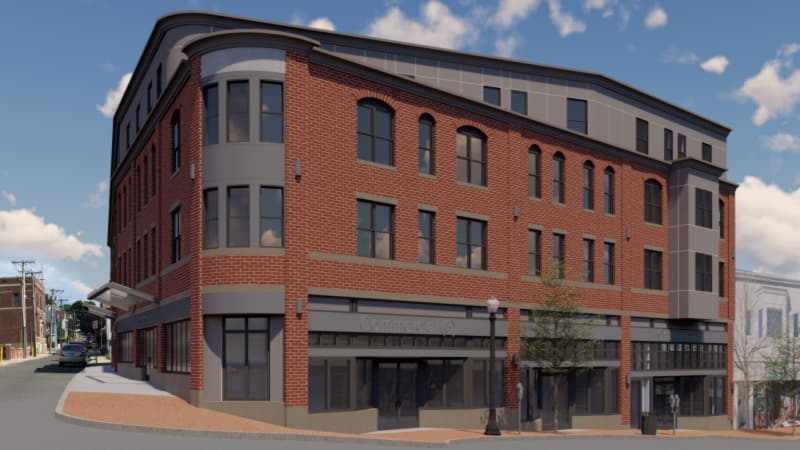 Peabody Properties, a full-service real estate and property management firm, is proud to announce the housing lottery for Harbor Village at 206 Main Street in Gloucester. Completed applications must be postmarked by February 8 to be considered for the lottery, which will take place February 22, 2021. (Applications will continue to be accepted after that date but will no longer be eligible for the lottery.)
Harbor Village is a 30-unit, mixed-income apartment community located in downtown Gloucester with one-, two-, and three-bedroom apartment homes available. Peabody Properties will serve as property manager of the community; Action, Inc. and the NSCDC are developing the community. Expected occupancy is Summer of 2021. For more information or an application, visit www.harborvillagegloucester.com or call Peabody Properties at 781-917-6348.
"Our project has been more than six years in the making," said Peggy Hegarty-Steck, executive director for Action, Inc. "We are so thrilled to see this beautiful, affordable, highly energy-efficient addition to Main Street Gloucester!
"There is a significant need for affordable housing in our community and especially in this time of COVID, people need affordable places to live now more than ever," continued Hegarty-Steck. "We are so grateful to Mayor Romeo Theken for her support on this vital project. Big thanks go to all of the city staff, neighbors, community partners, and local leaders who helped us get to 'yes' on this project."
"After years of planning, we are so excited to be on the cusp of welcoming the first 30 families into Harbor Village," said Mickey Northcutt, CEO of the North Shore Community Development Coalition, which has been integral in the realization of this new community. "Move-in day with every new project is the most exciting day for North Shore CDC and we are especially pleased to open Harbor Village in the heart of beautiful Gloucester."
"We are proud to partner with Action, Inc. and the North Shore CDC on this beautiful community," added Karen Fish-Will, principal and CEO of Peabody Properties. "We look forward to welcoming new residents to Harbor Village this summer!"
About Peabody Properties
The Peabody Companies and its affiliates – Peabody Properties, Peabody Resident Services, Peabody Supportive Housing, Peabody Real Estate and Peabody Miami – is headquartered in Braintree, Massachusetts, at 536 Granite Street. A full-service real estate firm, Peabody Properties manages over 13,650+ units of housing throughout New England, as well as additional communities in New Jersey and Florida. This award-winning, privately held company and Accredited Management Organization (AMO) was incorporated in 1976 and is under the direction of Karen Fish-Will and Melissa Fish-Crane, who were recently ranked #31 (out of 50) on Glassdoor's 2018 SMB Top CEOs list. Recognizing its long-term commitment to Resident Services as a unique area of expertise within the field of property management, a specialty sector, Peabody Resident Services was established and is dedicated solely to the development of support services and programs for residents of affordable housing. Designated as a Women Business Enterprise (WBE), and certified by the Massachusetts State Office of Minority and Women Business Assistance (SOMWBA), Peabody was recently ranked #54 on the 2020 National Affordable Housing Management Association (NAHMA) Affordable 100 List, as well as a 2017, 2018 and 2019 Top Place to Work by the Boston Globe and 2018 and 2019 Glassdoor Best Place to Work (most recently ranked #10). Learn more at http://www.peabodyproperties.com or on LinkedIn,Facebook,Instagram, or YouTube.