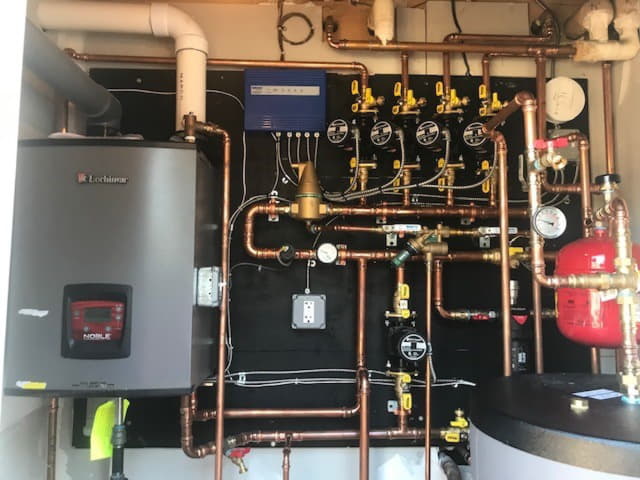 The Presidential Courts has 44 boiler rooms, making the collaboration between Action, Inc. and ABCD an even more impressive undertaking. Pictured here are four electrical pumps provided by Action, Inc. The larger boiler equipment on the left was provided by ABCD.
The Peabody Companies, a group of award-winning property management and real estate firms, announces an annual savings of $1.75 million in gas and electric savings at its properties in 2019-2020, stemming from its participation in the Massachusetts LEAN Multifamily Program.
LEAN is the statewide network of local Community Action Agencies, which provide energy efficiency and other energy services at no cost to income-eligible clients. LEAN brings together over 40 years of experience and funding from all different sources to identify, scope, manage, inspect and pay for energy efficiency installations in residential housing. The LEAN Program is tailored to deliver complete, cost-effective gas and electric efficiency measures for affordable housing across Massachusetts.
Annual savings from gas and electrical projects at Peabody residential properties have been increasing every year for the last five years; $500,000 of this past year's $1.75 million in savings is a result of the Peabody Companies' partnership with Paradigm Energy Services of Somerville, Massachusetts. The firm is recognized as a leading energy efficiency service provider for multi-family homes.
Paradigm, working in conjunction with Action for Boston Community Development (ABCD) and Action Inc.'s Energy Services programs, has completed 39 electrical projects at Peabody Companies' communities since the partnership began in 2018, including at Commerce Apartments in Roxbury; Hearth at Olmsted Green in Dorchester; Julia Martin House in Jamaica Plain; Nate Smith House in Jamaica Plain; Roxse Homes in Boston; School House Apartments in Mattapan; and The Metropolitan in Boston.
Additionally, ABCD and Action Energy were brought together for the first time on a Peabody Properties project to fund heating upgrades at the Presidential Courts in Stoughton. ABCD initially committed to funding more than $196,000 on the boiler upgrades, and Action Energy then offered to fund $100,000 additional for the electrical work. Together, the two groups provided $296,130 for the project; these high efficiency upgrades are being installed now and will provide increased comfort for residents this heating season and for years to come.
ABCD is part of the Community Action Network, created with the passage of the Economic Opportunity Act, which was signed into law in 1964.
"Paradigm Energy Services has been fortunate to build a strong partnership with Peabody in our shared quest to make homes better places to live in by improving the way they use energy," said Mike Hogan, CEO and Founder of Paradigm Energy Services. "Peabody's team embraces a collaborative, portfolio wide approach to improving energy efficiency that is respectful and honest; Paradigm is privileged to be their partner."
Savings from weatherization upgrades at several Peabody Companies' properties were also achieved, with improvements having an immediate and significant effect on the comfort of residents.
In July, the Peabody Companies reached a milestone of $20 million in LEAN funding in no-cost energy retrofits for its portfolio of communities; to date that amount has increased to $20.4 million.
"To say that the LEAN Multifamily Program is a valuable no-cost resource is an understatement," said Mark Dubos, Director of Facilities, Energy Management & Sustainability with The Peabody Companies. "In partnership with the outstanding team at Paradigm Energy Services, we have realized remarkable savings while at the same time adding to the comfort of our residents."
About the Peabody Companies
The Peabody Companies and its affiliates – Peabody Properties, Peabody Resident Services, Peabody Supportive Housing, Peabody Real Estate and Peabody Miami – is headquartered in Braintree, Massachusetts, at 536 Granite Street. A full-service real estate firm, Peabody Properties manages over 13,000+ units of housing throughout New England, as well as additional communities in New Jersey and Florida. This award-winning, privately held company and Accredited Management Organization (AMO) was incorporated in 1976 and is under the direction of Karen Fish-Will and Melissa Fish-Crane, who were recently ranked #31 (out of 50) on Glassdoor's 2018 SMB Top CEOs list. Recognizing its long-term commitment to Resident Services as a unique area of expertise within the field of property management, a specialty sector, Peabody Resident Services was established and is dedicated solely to the development of support services and programs for residents of affordable housing. Designated as a Women Business Enterprise (WBE), and certified by the Massachusetts State Office of Minority and Women Business Assistance (SOMWBA), Peabody was recently ranked #49 on the 2019 National Affordable Housing Management Association (NAHMA) Affordable 100 List, as well as a 2017 and 2018 Top Place to Work by the Boston Globe and 2018 and 2019 Glassdoor Best Place to Work (most recently ranked #10). Learn more at http://www.peabodyproperties.com or on LinkedIn, Facebook, Instagram, or YouTube.