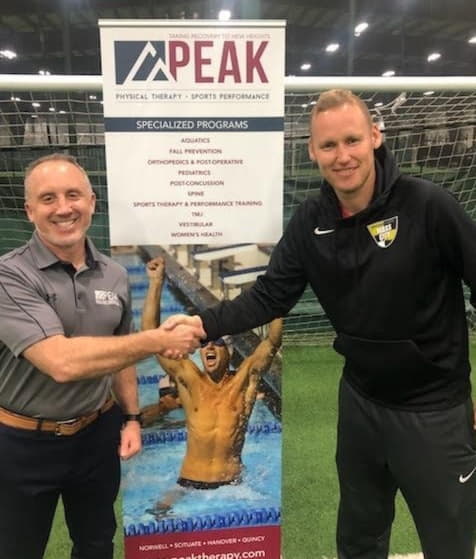 Peak Physical Therapy & Sports Performance, a South Shore practice specializing in unique programs that provide comprehensive treatment in orthopedic, spine and sports medicine specialties, is pleased to announce a new partnership with Mass City FC, a premier soccer club based in Hanover, MA.
The partnership will provide Mass City players all of the benefits of Peak's Athletic Partnership Program which offers free injury screenings, free injury prevention and sports performance clinics and priority access for physical therapy appointments. The program also allows athletes to complete their rehabilitation and experience a proper safe transition back to their specific sport.
The Mass City FC has boys and girls teams providing year round soccer and Futsal. The Mass City Academy program welcomes players from U5-U10 in Hanover and Weymouth locations. Their professionally licensed coaching staff teaches ball skills and the appropriate technical and tactical aspects of the game. The club offers training clinics, teams, camps and tournaments. You may visit www.masscityfc.com to learn more.
"We are excited to partner with one of the premier soccer clubs in the region," said Eric Edelman, PT, owner of Peak Physical Therapy & Sports Performance. "Our goal is to provide their players with a trusted professional resource to help keep their athletes on the field, and get them back to playing as soon as possible and safely if an injury occurs."
About Peak Physical Therapy and Sports Performance
Located in Norwell, Scituate, Quincy, and Hanover, Peak Physical Therapy & Sports Performance offers specialized programs tailored to their patients' needs. They offer spinal and sports injury programs, and have also developed specialized programs that address post-surgical rehabilitation, vestibular disorders, fall prevention, post-concussion syndrome, pediatrics, TMJ disorders, women's health issues, men's health issues, aquatic therapy and more. These specialized programs combined with their state-of-the-art facilities allow them to meet the unique needs of their patients and achieve the fastest results. For additional information, please call 781-347-4686 or visit www.peaktherapy.com