Winners of newSustaining Grants Program announced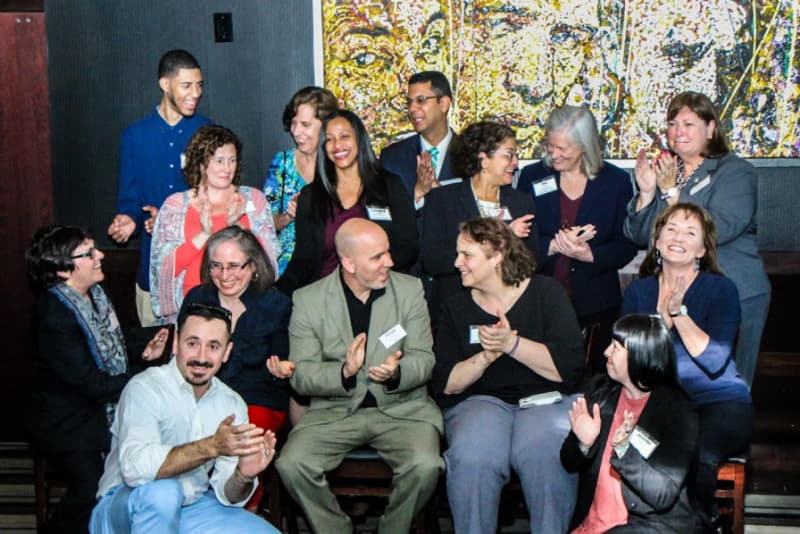 Cummings Foundation last week awarded a total of $2.5 million through its brand new Sustaining Grants program to five local nonprofits: CommonWealth Kitchen (Dorchester), Generations Incorporated (Boston), Girls Incorporated of Greater Lowell, Lawrence CommunityWorks, and UTEC (formerly United Teen Equality Center, in Lowell).
Representatives of the winning organizations learned of their major grant awards during a May 3 reception at Strega Prime restaurant, at Woburn's TradeCenter 128 campus. The Foundation invited them under the pretext of offering finalists for the grants one last opportunity to make pitches for their nonprofits. The evening quickly turned celebratory, however, when Cummings Foundation founder Bill Cummingsmade a surprise announcement that all five of the organizations in attendance had already been selected as the winners.
"It was the best shock I've ever had in my life," said Mary Gunn, executive director ofGenerations Incorporated. "I was thinking,'I can't cry here in front of all these people.' But I could see them misting up as well."
Generations Incorporated is a literacy program that pairs volunteers over the age of 50 with children in kindergarten through grade3. It will use the funding to recruit, train, and support new volunteers to serve an additional 200 children per year.
"I'm tickled to death to think about serving more kids," said Gunn. "In 40 years of working in nonprofits, I'venever heard of a sustaining grant like this. It's just an incredible honor."
The intimate gathering of about 30 peopleincludedthree representatives of each nonprofit, as well as Cummings Foundation staff, volunteers, and trustees.
The Sustaining Grants program builds on Cummings Foundation's "$100K for 100" program. First offered in 2012, $100K for 100 annually awards multi-year grants of $100,000 each to 100 nonprofits that are based in and serve Middlesex, Essex, and Suffolk counties.
Grant recipients that received their final $100K for 100 grant disbursements in 2016 were automatically considered for the newfundingopportunity. Sustaining Grants winners will receive $50,000 annuallyfor up to 10 additional years.
"This is such an enormous validation of the work we do," said Jen Faigel, executive director of CommonWealth Kitchen, Boston's only nonprofit food business incubator. "For someone to have enough confidence, trust, and faith in us to invest in us long-term – that's really unusual in the nonprofit sector."
CommonWealth Kitchen will use the grant to provide additional support and training to the early stage companies operating out of its shared kitchen.
"This kind of resource is a real game-changer for an organization like ours," said Faigel."It's the kind of support that instills confidence in other funders. It's hard to comprehend how this will accelerate us to next level."
"The Sustaining Grants program allows the Foundation to recognize and support organizations that have been deemed to be providing exemplary services to local communities," said Joyce Vyriotes, associate director of Cummings Foundation. "It will also serve to increase other nonprofits' chances of winning $100K for 100 grants, as the Sustaining Grants recipients will be removed from consideration for the $100K for 100 program for the duration of their new awards."
This year's $100K for 100 program drew a record number of applicants – 549. The 100 winners will be announced next month.
The Sustaining Grants selection process was not application-based; rather, a volunteer committee researched each organization and conducted phone interviews and site visits. The Foundation has involved an increasing number of volunteers in its grant decisions in recent years, according to Vyriotes.
"This year alone, more than 40 community and business leaders are serving on our various grant selection committees," said Vyriotes. "The Foundation greatly benefits from their diverse backgrounds and perspectives, and they've enjoyed learning about the many amazing nonprofits that are working on behalf of local communities."
Eighty-nine organizations were considered for the five Sustaining Grants. Descriptions of the programs to be funded at the winning organizations are available at cummingsfoundation.org/sustaining-grants. Ten new Sustaining Grants winners will be selected in 2018.
Cummings Foundation has awarded more than $160 million to date in Greater Boston alone. It aims to give back in the areas where it owns commercial buildings, all of which are managedon a pro bono basis by its affiliate, Cummings Properties. Founded in 1970 by Bill Cummings of Winchester, the Woburn-based commercial real estate firm leases and manages more than 10 million square feet of space, the majority of which exclusively benefits the Foundation.
About Cummings Foundation
Woburn-based Cummings Foundation, Inc. was established in 1986 by Joyce and Bill Cummings. With assets exceeding $1.4 billion, it is one of the largest foundations in New England. The Foundation directly operates its own charitable subsidiaries, including New Horizons retirement communities in Marlborough and Woburn. Its largest commitments to date include $50 million to Cummings School of Veterinary Medicine at Tufts University and $15 million to Partners In Health, in Boston. Additional information is available at www.CummingsFoundation.org.