233 nonprofits in 92 local cities and towns benefitted from Employee Directed Giving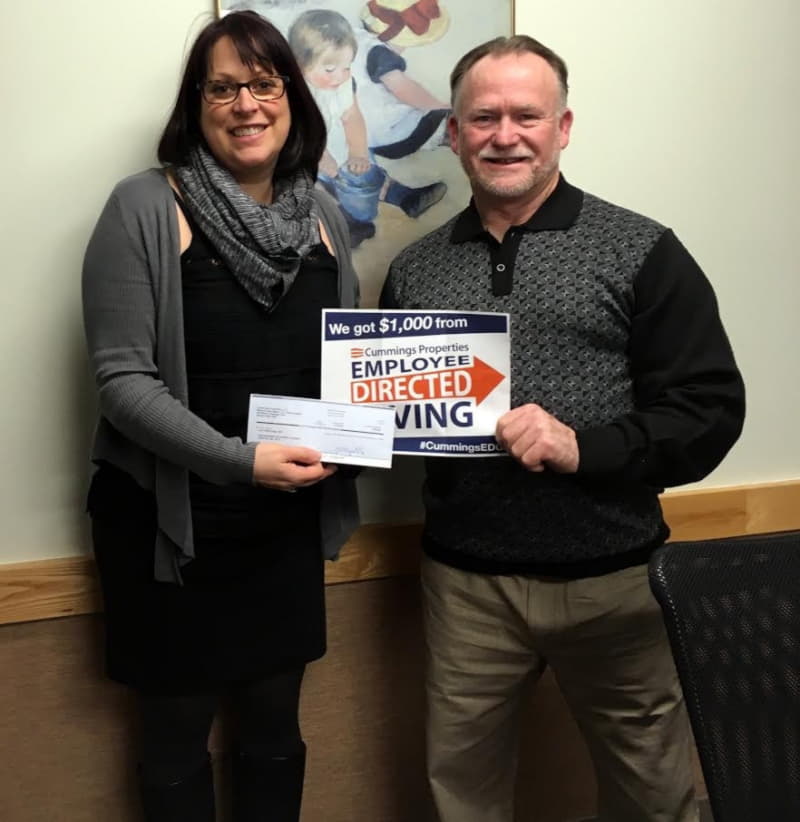 Executive director of DCF Kids Fund Jennifer Kitchenham accepts an Employee Directed Giving check from Cummings Properties night crew team leader John Henk.
It's the most wonderful time of the year at Cummings Properties. Employees are invited each November to select local charities to receive $1,000 each from the Woburn-based commercial real estate company through its Employee Directed Giving program.
In 2016, Employee Directed Giving resulted in $326,000 in contributions to 233 nonprofits in 92 local cities and towns. The four-year-old annual program is designed to give back in the areas where Cummings Properties employees live and work.
Each eligible organization can receive as much as $5,000 per program cycle, if multiple staff members choose the same nonprofit. Seven Massachusetts organizations received $5,000: Beverly Bootstraps, Boston Children's Hospital, HILL for Literacy, McKeown Boys & Girls Club, Northeast Animal Shelter, Operation Delta Dog, and St. George Church of Lynn, for its Philoptochos Caring & Sharing program.
Cummings Properties night crew team leader John Henk of West Yarmouth, who has been with the firm for 27 years, chose DCF Kids Fund to receive an Employee Directed Giving donation in his name for the third year in a row. The fund aims to provide basic necessities and enrichment opportunities to the 50,000 children served by the Massachusetts Department of Children and Families.
As a foster parent for more than 20 years and the adoptive father of four children, Henk knows firsthand how children rely on the Kids Fund.
"Kids need homes and stability, but sometimes they also need extra," said Henk. "DCF Kids fills in when a child needs a backpack for school or help paying for summer camp; they provide the extra."
Employee Directed Giving is open to all regular full-time employees of Cummings Properties, as well as its affiliated retirement communities, New Horizons at Choate in Woburn and New Horizons at Marlborough. Selected nonprofits must meet a few eligibility requirements and be based in and serve Middlesex, Essex, or Suffolk County, or the city or town where the employee lives.
"Our colleagues feel good about being able to support local charities that are especially important to them and their families," said Dennis Clarke, Cummings Properties' president and CEO. "And we feel good about honoring staff members in this unique way for their hard work and dedication."
Cummings Properties has a presence in 10 Greater Boston communities, including Beverly, which is home to its newest project, the luxury condominium homes at Elliott Landing by Cummings, which welcomed its first residents last month.
More information, including the complete 2016 Employee Directed Giving recipient list, is available at www.cummingsproperties.com/employee_directed_giving.htm.