10 Henshaw Street was building #1 in 10 million-square-foot portfolio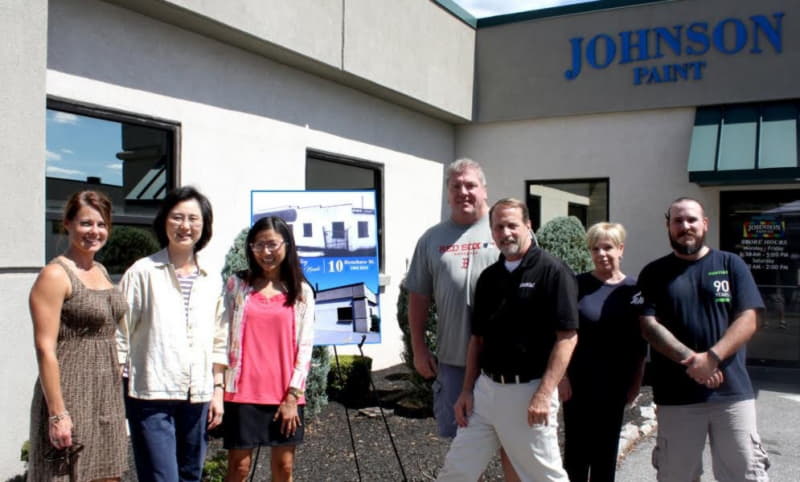 Cummings Properties account manager Shannon Haines (left) with Nancy Lu and Sheila Wang of CNH Technologies and Mike O'Hearn, Joe Reddington, Patty Stockwell, and Dan Hall of Johnson Paint
Cummings Properties recently celebrated the 50th anniversary of the purchase of its building at 10 Henshaw Street in Woburn. Little did Bill Cummings know in 1966 that buying a 6,000-square-foot "beat-up" concrete building would change the trajectory of his career as well as the face of nearby Washington Street.
In the early 1960s, Bill Cummings purchased Old Medford Foods, a well-established but struggling fruit juice manufacturing company, located in Medford. The then-29-year-old entrepreneur rejuvenated the business, growing it to the point where more space was needed for the office and manufacturing operations.
With no aspirations of entering the real estate business, much less eventually amassing a portfolio of more than 10 million square feet, Cummings purchased the Henshaw property. The building and one acre of land were previously home to Woburn Cabinet & Lumber Co. as well as an overflowing building demolition and salvage yard.
According to Cummings, the site came with a decent amount of mostly unusable junk and 18 dilapidated buses from the long-defunct Eastern Massachusetts Street Railway Company.
"We found a startling number of squirrels, skunks, and raccoons colonizing the old buses, but they disappeared back into nearby woods very quickly after we arrived," said Cummings.
Three years later, figuring that he already owned the land and the utilities were sufficient to support additional users, Cummings added a 15,000-square-foot addition on the same lot for rental purposes.
"The economics of this kind of investment were extraordinarily good," said Cummings. "We were taking advantage of what I call 'free' buildability that came with the deed."
Cummings hired Woburn firm Albert F. Finethy Inc. General Contractors to build what became 12 and 14 Henshaw Street, and then promptly leased the new space to two firms, Wakefield Engineering and Eastern Tool Warehouse.
Cummings thought this would be a one-off investment project for supplemental income. Shortly afterward, however, he purchased the adjacent parcel from John and William McDonald, and he built 2–8 Henshaw Street.
"If that vacant field next door had not become available when it did, my foray into property development would surely have started and ended with that first addition," said Cummings.
Before long, Cummings decided he liked commercial real estate more than fruit juice. In 1970, with the purchase of 20 acres of industrial-zoned land at 345 Washington Street in Woburn, Cummings Properties was born – although, at the time, it was known as Cummings Industrial Centers, Inc.
"There was much more excitement and challenge in commercial real estate than there ever would be in selling fruit punch," said Cummings, who eventually sold Old Medford Foods so he could devote his full attention to growing his new venture.
And grow it did. By 1973, Cummings Properties had built and fully leased 500,000 square feet of commercial space, and West Cummings Park was also taking shape along Washington Street. Once lined by dozens of aging greenhouses, the area has now been transformed into a hotbed of high-tech activity and innovation.
To mark the 50 th anniversary of Cummings' first commercial real estate purchase, Cummings Properties held a celebratory barbecue for the client firms located at the Henshaw Street building, many of whom were surprised to learn of the property's history.
"I think that's so wonderful," said Sheila Wang of CNH Technologies, when she saw the then-and-now photos of the building displayed at the event.
The biochemistry firm has been headquartered at 10 Henshaw since 2001.
Mike O'Hearn remembers when Johnson Paint, for which he handles distribution, opened at 10 Henshaw Street, 16 years ago. The company's original location is on Newbury Street in Boston, and its Woburn store serves contractors north of the city.
"This has been an ideal spot," said O'Hearn. "I-93 and I-95 are right there, and there's plenty of parking, which is key for contractors who want to get in and out quickly."
Cummings Properties now manages 10 million square feet of commercial space in 10 suburban communities north and west of Boston. It has approximately 370 full-time employees who serve more than 2,000 leasing clients. The large majority of buildings managed by Cummings Properties, including those on Henshaw Street and in Cummings Park and West Cummings Park, are now owned by Cummings Foundation, with all rental profits benefiting charitable causes.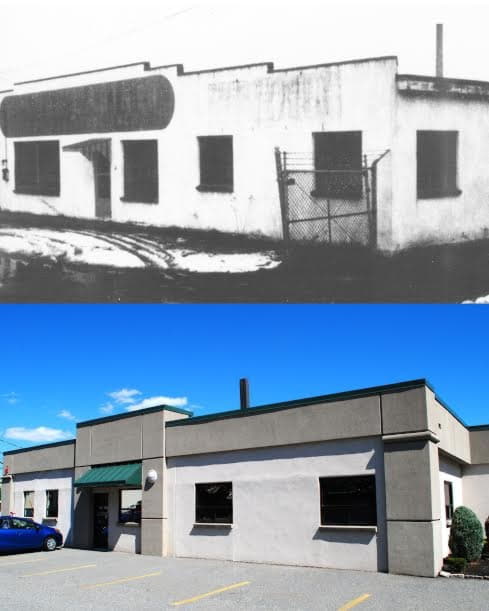 10 Henshaw Street, then and now