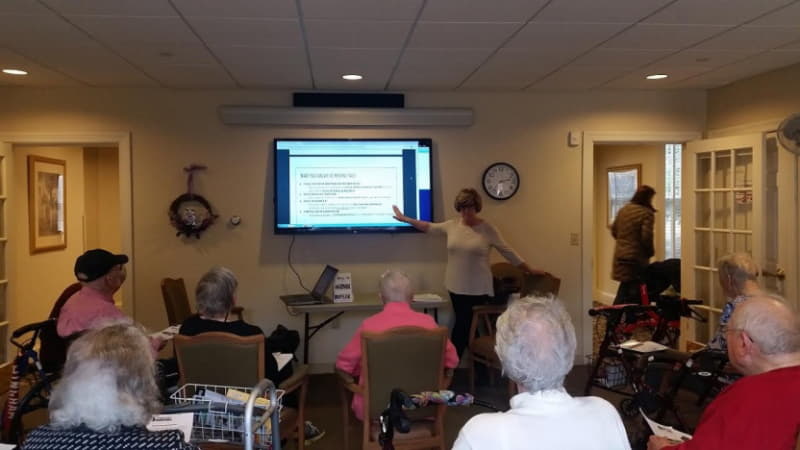 Peak Physical Therapy & Sports Performance, a South Shore practice specializing in unique programs that provide a comprehensive approach to treatment in orthopedic, spine and sports medicine specialties, recently provided a fall prevention program for the residents at the Allerton House in Hingham, as assisted living community.
Peak Physical Therapist Brenda O'Connell presented to the group. She is a member of the Peak Fall Prevention Team that includes Director of Education and Clinic Manager of the Quincy practice, Katy Mecurio, DPT, CSCS and Meghan Harrington, DPT. The Fall Prevention Team has been created to educate the community through presentations and interactive exercises, including Tai Chi. Studies have shown that Tai Chi can reduce falls in seniors by up to 45 percent.
The program also educates caregivers and healthcare providers to help recognize patients who are fall risks and refer them to specialized programs that help prevent future falls. The program seeks to improve patient safety through screening and intervention. Their mission is to prevent as many falls as possible in the elderly population allowing them to stay safe and independent.
Statistics show that 1 of 5 fall related injuries account for 800,000 hospitalization each year and 74 deaths a day. Falling one doubles the risk of falling again. Evidence supports physical therapy intervention for effective management of fall risks and is supported by the US Preventive Task Force, the American Geriatrics Society and the National Council on Aging.
A resident of Pembroke, O'Connell graduated from Boston University with a Bachelor of Science degree in Physical Therapy. She has spent the last 36 years working on the South Shore, the last several years in management. She has 30 years experience in orthopedics with special training in manual therapies including myofascial release, joint mobilization, strain-counter strain and cranio-sacral therapy. O'Connell has six years experience with treating chronic pain of the head, neck and shoulder and TMJ disorder. While spending time in the home care setting, she received experience in treating vestibular disorders and fall prevention in the geriatric population.
"By understanding fall risk factors and how to prevent falls we enable our seniors to stay and their homes and remain independent," said Eric Edelman, PT, owner of Peak Physical Therapy & Sports Performance. "Our team enjoys being out in the community and leading these programs knowing that they can make a difference in the quality of life for people."
About Peak Physical Therapy and Sports Performance
Located in Norwell, Scituate, Quincy, and a new location in Hanover, Peak Physical Therapy & Sports Performance offers specialized programs tailored to their patients' needs. They offer spinal and sports injury programs, and have also developed specialized programs that address post-surgical rehabilitation, vestibular disorders, fall prevention, post-concussion syndrome, pediatrics, TMJ disorders, women's health issues, aquatic therapy and more. These specialized programs combined with their state-of-the-art facilities allow them to meet the unique needs of their patients and achieve the fastest results. For additional information, please call 781-347-4686 or visit www.peaktherapy.com